What is medical detox? How does detox help in recovery? Learn how medical detox programs work, and how South Coast can help you recover.
Once a person develops an addiction, it can be incredibly difficult to quit. In fact, many people avoid entering treatment to postpone the inevitable discomfort that occurs during withdrawal. The process of recovery is even more challenging due to the potentially life-threatening withdrawal symptoms that may occur if the person chooses to stop taking drugs or alcohol. To lessen the risks associated with alcohol and drug withdrawal, the first step in recovery from addiction is entering a medical detox program. 
Detox is an important step in the recovery process because it allows your body to rid itself of the toxins that have built up over time due to substance abuse. During medical detox, South Coast will help you manage any withdrawal symptoms so that you can finally get on the road to recovery.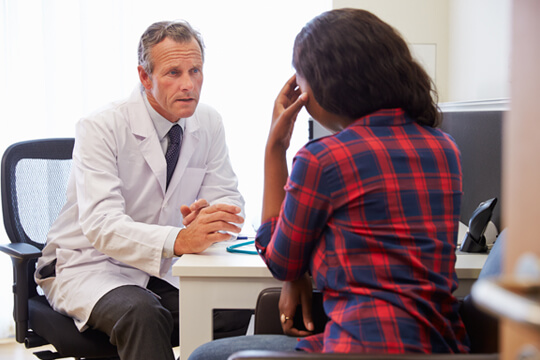 During treatment for substance use disorders, medical detox programs assist in the removal of toxins (drugs and/or alcohol) while addressing any withdrawal symptoms that arise. The detoxification process is often physically and emotionally taxing for those with physiological dependence. 
Due to the uncomfortable and sometimes dangerous symptoms of withdrawal, it is important to remain under the close supervision of medical professionals while detoxing from addictive substances. Throughout treatment in a detox facility, addiction treatment professionals can provide you with medications to ease your discomfort and manage the symptoms resulting from drug or alcohol withdrawals. For example. medical detox programs often utilize FDA-approved medication management services to prevent seizures that may occur during withdrawal from alcohol and benzodiazepines.
In maintaining a safe, comfortable treatment environment, medically-supervised detox programs are staffed with highly trained medical professionals who will be there to support you every step of the way. As a vital resource for those seeking addiction recovery services, alcohol and drug detox programs help you throughout the sub-acute detox phase of recovery and continue into residential and outpatient treatment to lower your risk of relapse.
We are open 24 hours per day, 7 days per week, 365 days per year.
Medical Detox Program Highlights
A Safe Place to Detox and Recover
From Substance Abuse
South Coast's medical detox programs are staffed with compassionate medical professionals who are dedicated to providing the best possible care for our clients. Our medical team has years of experience with sub-acute detox services and extensive knowledge of the withdrawal process. For this reason, our medical detox staff knows how to increase your comfort level and keep you safe during treatment.
As a quality drug and alcohol detox program in California, we are dedicated to providing a safe and comfortable environment for men and women to detox from drugs and alcohol. For instance, our medical detox program focuses on providing you with the time you need to recover while offering intensive therapies and nutritional services to make the transition as comfortable as possible. Our goal is to equip you with the knowledge and skills needed to build a strong foundation for successful recovery.
During detox, you will receive guidance from our team of medical professionals, behavioral therapists, and support staff.  Our goal is to equip you with the knowledge and skills needed to build a strong foundation for successful recovery. 
What To Expect During Detox?
During the detoxification process, you remain in the comfort of our private, home-like, sub-acute drug detox centers. As you detox from drugs or alcohol, you have the time and space to begin your recovery journey with the highest level of respect and dignity.
At South Coast, your safety is our top priority which is why our nurses regularly monitor your vital signs and offer comfort as you detox. As you detox from drugs and alcohol, you will also receive stabilizing care including thorough evaluations, 24-hour medical care, medication management, and symptom monitoring. 
If you or someone you know is considering treatment for substance abuse then it's important to understand how medical detox programs aid in uncovering the reasons behind substance abuse. These programs also begin the process of developing coping skills and inner motivation for life-long recovery.
Medically Monitored Inpatient Detox Services
Our detox level of care provides 24/7 care within our highly structured treatment program. For this reason, medical detox services benefit clients struggling with medical, emotional, behavioral, and cognitive complications resulting from substance abuse.
Our medical detox services include:
South Coast's medical detox program provides you with the medical care, clinical guidance, and peer support that you need to start your new life in recovery. For instance, if you require a medically-assisted detox with a taper to prevent life-threatening withdrawal symptoms, our highly skilled medical professionals will ensure your safety and comfort. Likewise, if you are in need of a medically supervised withdrawal with comfort medications, South Coast can help you start your recovery. Our around-the-clock care also enables us to attend to medical emergencies immediately.
In entering South Coast's medical detox program, you will also gain access to the healing benefits of evidence-based therapies. Throughout treatment, individual and group therapy will help you to address any behavioral concerns that may be contributing to your addictive behaviors.

Our Medical Detox Program
Detox Centers in Irvine and Huntington Beach
South Coast Behavioral Health provides medically supervised, comprehensive substance abuse treatment programs with all of the necessary services and support to help individuals overcome addiction. Our medical detox program is designed to address physical withdrawal symptoms that can accompany early sobriety. 
During detox at South Coast, you will gain a better understanding of your triggers and learn how to apply healthy coping skills to combat cravings. Without the constant fear of relapse or returning to past addictive behaviors, you can continue your journey toward health and happiness in recovery.
Within each medical detox facility in Orange County, California, we strive to make every client feel supported during their rehabilitation process. We want each client who comes through our doors to leave feeling empowered by newfound insight into their addiction. We also offer a variety of amenities that can help make the detoxification process as comfortable as possible, such as private rooms with televisions, daily housekeeping services, and meals prepared by our on-site chef. 
Mental Health Services for Co-Occurring Disorders
Our drug and alcohol programs also provide dual diagnosis treatment for most co-occurring psychiatric disorders. As a result, we can assist in lessening symptoms that otherwise hinder a client's ability to successfully engage in SUD treatment. In general, our detoxification services assist you in reestablishing a sense of safety, normalcy, and comfort as your body is cleansed of toxins. Paired with counseling, medication management, education, and skills training, we reintroduce you to daily life activities without the use of drugs or alcohol.
What Happens After Detox?
South Coast Behavioral Health is fully equipped to help you through the sub-acute detox phase of recovery and continue into residential and outpatient treatment to lower your risk of relapse. Detoxing from drugs or alcohol is the first step in recovery. Withdrawal symptoms can be very uncomfortable and even dangerous in some cases. It's imperative that you undergo alcohol or drug detox under the care of medical professionals. At South Coast Behavioral Health, we'll ease withdrawal symptoms with research-backed medications and approaches, and keep you safe and as comfortable as possible.
Inpatient Detox and Residential Programs in Orange County
Inpatient Facilities in Costa Mesa, Irvine, and Huntington Beach
South Coast Behavioral Health provides a secure environment for our clients to begin their journey toward healing and sobriety. Each house has accommodations for six clients at a time, offering them the opportunity to develop close relationships with peers who are dealing with similar issues as they work toward recovery together. 
Intensive Outpatient Services in Newport Beach
Partial Hospitalization and Intensive Outpatient Facility in Newport Beach
Our PHP/IOP wellness center provides clients with evidence-based care through specialized therapy sessions like individual counseling and group therapy. With close proximity to beaches as well as vibrant restaurants, local art galleries, and scenic hiking trails, there are plenty of opportunities for our clients to engage in activities in the early stages of recovery. Participating in a variety of fun, sober activities during PHP and IOP helps to promote relaxation and self-care while still providing the structure needed for successful recovery.
In addition to providing support to those struggling with substance abuse, we also offer relapse prevention services designed to help our clients maintain abstinence after they have been discharged from treatment. This includes routine check-ins with our alumni coordinators and continued access to resources such as peer support groups or sober living houses if needed.  
Does Insurance Cover Detox?
South Coast is In-Network with Aetna, Anthem, and Cigna.
We also accept most major insurances.
We also work with many other major health insurance providers. If you would like to know if there will be any out-of-pocket costs for our treatment programs, the easiest way to find out is to check your insurance coverage. 
You should never quit drugs or alcohol cold turkey on your own. It can be dangerous and you're at great risk for relapse. Please seek help from medical professionals if you are trying to discontinue drug or alcohol use. At South Coast, we make sure detox is safe and as comfortable as possible. Our staff will be with you every step of the way during this first step into recovery. Call (866) 881-1184 to learn more about South Coast Behavioral Health's detox and addiction treatment programs.
If you or someone you know is struggling with addiction, please don't hesitate to reach out to us.
We are here to help because we've been there.
Let us help you take back your life.
You are the most important individual that we can help. You matter to us in ways that we cannot describe in words. Your life has value, and no matter how broken you think you are, we are here to help put the pieces back together.